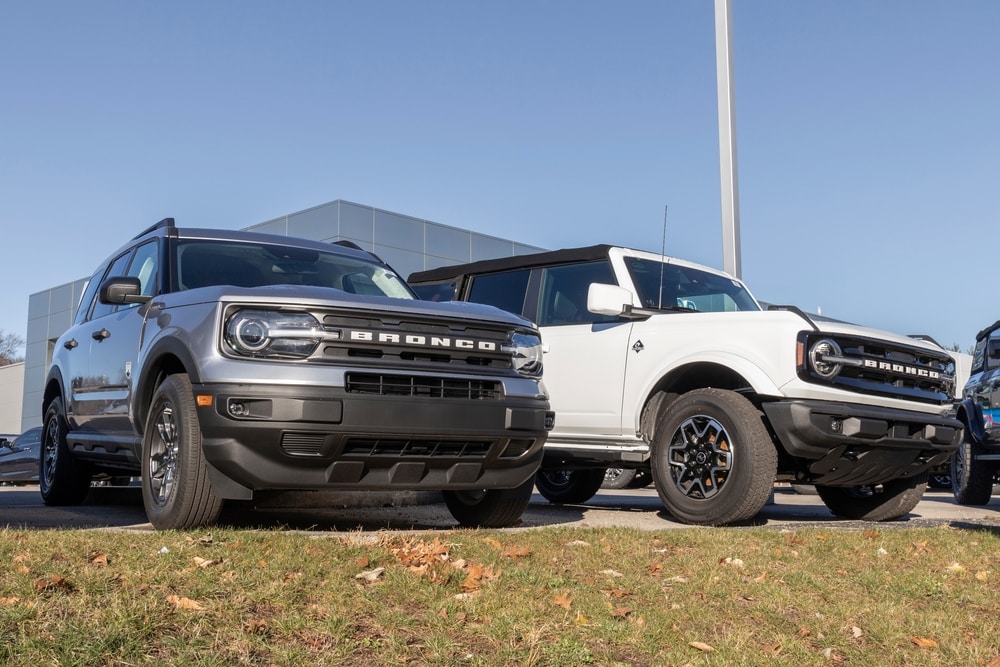 Many Bronco enthusiasts want to get their hands on the newest model, but they find it frustrating because there are so many versions to choose from. You could be in the same boat, wondering, "Which Bronco should I buy?" We can help you narrow down your choice by taking a look at some of the features you would get with each trim.
What does 2022 bring for the new Ford Bronco?
All Bronco trims offer standard 4WD, but there are a couple of different engines that will power up your vehicle depending on the trim you choose. There's the 2.3-liter four-cylinder that will get you 20 mpg combined while the 2.7-liter V6 (paired with a 10-speed automatic) gets 19 mpg combined. It seems that the higher the trim you go, the fewer fuel savings you'll get because some of them offer only 17 mpg overall.?
You can get your Ford Bronco in either the standard two-door or you can opt for a four-door version for just a little more money. There are also hardtops and soft tops available but you can only choose the soft ones for the four-door body style.
How to determine which Ford Bronco to buy
With all the trim level options out there, it's hard to know which Bronco to buy. A good rule of thumb is to determine what your needs are, or what you plan to do with your off-roading SUV. The 2022 Ford Bronco comes with several trims, so let's take a look at what each one offers.?
Base Bronco- To start, the base offers a minimum amount of features for an inexpensive price. You get a removable hardtop, manual transmission,16-inch steel wheels, tie-down hooks for the fenders, carpeted flooring, cloth bucket seats, push-button start, and remote keyless entry. Its Terrain Management System comes with Normal, Eco, Sport, Sand, and Slippery driving modes.?
Big Bend- The next trim in the lineup is the Big Bend, which has 17-inch aluminum wheels, a leather-wrapped steering wheel and shifter knob, a remote start, and LED fog lights. It also adds Mud/Ruts driving modes to the Terrain Management System. With this trim, you have the option to add the Mid Package, which will offer features such as an auto-dimming rearview mirror, front-row heated seats, and blind-spot monitoring.?
Black Diamond- This is the next trim level for the Ford Bronco. You get a lot of the same features as the Big Bend, but it also adds front/rear tow hooks, steel bumper, and marine-grade vinyl seating. This model also offers Rock Crawl driving mode for those looking for more in an off-road SUV.?
Outer Banks- This trim will not have Rock Crawl or steel bumpers but will build off the Big Bend model. It will add 18-inch wheels, LED headlights and taillights, side tube steps, and heated front seats. It will also come with the 10-speed automatic transmission standard on this version. For additional features, this model will offer the High, Mid, and Lux packages.?
Badlands- This trim caters to those looking for a little more off-roading adventure. Like other versions, it builds off the Big Bend model but adds full underbody bash plates, electronic locking front, and rear differentials, and upgraded off-roading tires. It reintroduces Rock Crawl driving mode and adds Baja as well.?
Wildtrak- The next model in the lineup is the Wildtrak which takes what the Outer Banks trim offers and adds the 2.7-liter twin-turbo V6 engine paired with the 10-speed automatic transmission. Its Terrain Management System comes with all seven driving modes (Normal, Eco, Slippery, Sand, Rock Crawl, Mud/Ruts, and Baja). For available features, you can add Mid, High, Lux, and Sasquatch packages.?
Raptor- This is the highest trim available on the 2022 Ford Bronco and it offers the best features available for those serious about off-roading. You get 37-inch all-terrain tires, 13.1-inches of ground clearance, widened axles in the front and rear, remote-reservoir coil-over Fox shock absorbers, and sturdy skid plates for the underbody. Powering it up is a 3.0-liter EcoBoost V6 engine that produces over 400 hp paired with a paddle-shift 10-speed automatic transmission.?
Which Ford Bronco offers the most value?
While off-roaders might be tempted to lean towards the Badlands, Wildtrak, or Raptor models, not many Bronco enthusiasts will want to budget for the higher-priced trims. Instead, we recommend the Big Bend trim level, because it offers enough for all types of driving, including some mid-grade off-roading.?
It's not geared up for advanced rock crawling adventures, but you can still handle muddy terrain as well as some gravel path ruts. It gives you just enough to whet the appetite and it does it for an inexpensive price when you compare it to the higher trims. Of course, if you're gung-ho about handling the toughest terrain, by all means, check out the Raptor, which offers everything you need for your next adventure.?
Customizing your purchase to suit you
Pricing for any of these models can be difficult to pinpoint since there are several packages and configurations to choose from. There are also body styles, paint color options, and other available features that can add a bit more to the overall price.?